Inventors, innovators and entrepreneurs the world over will always have the desire of pitching their idea to a group of individuals that might actually help to see their dream product realised.  Dragons' Den is the BBC's way of taking that concept and making some great TV entertainment in the process.
In series 13 three dragons emerged into the den.  Sarah Willingham, Touker Suleyman and Nick Jenkins eventually found their feet (and their wallets) and made some interesting investment decisions.  It was difficult for the new dragons in the den to compete with the older hands of Deborah Meaden and Peter Jones.
So why am I commenting on this?
On Sunday 27 December 2015 I pitched to the Dragons for investment to take the business on to the next stage.  The three minute "pitch" is one of the hardest elements to master and there were some hiccoughs.  I just hope they edited it kindly.
What is tap2tag?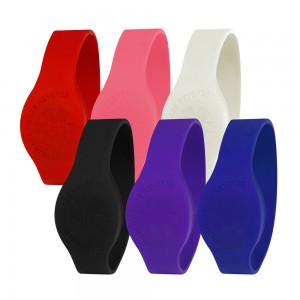 For those that are not aware of the product, we sell scannable medical alert wristbands and other devices that, with a simple tap of a mobile phone, allow a first responder to gain almost immediate access to the patient's medical information (you might of heard these exact words on the programme)!  It uses a new technology built into most smart phones sold in the UK called Near Field Communication ("NFC").  By simply tapping a mobile phone against one of these bands, it allows a first responder to see critical, life saving information in the event of a medical emergency.
The experience!
So what was it like?  Did we get investment?  If you haven't watched it yet then you can see it below.  On the whole the experience was a combination of excitement and extreme nervousness.  It does not matter how well you think you are prepared, when those lift doors open and you see the dragons waiting for you, then the terror can grasp the throat and set the knees shaking.  But the whole purpose was to gain investment to raise the profile of the system with the public and paramedics as part of a marketing campaign.
https://vimeo.com/168925236
It's a long day too.  As you are waiting to enter the den you look around at some of the other "pitchers" and watch them practising their pitch "just one more time".  Then there are others who are so relaxed that you wonder if they know what they are letting themselves in for.  And I don't think anyone can be totally prepared for the den.  I swear that they even turn up the lights in the studio just so the entrepreneurs look like the startled rabbit I'm sure I looked like.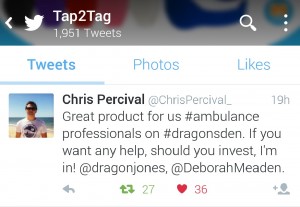 So the pitch is delivered.  "Did anyone notice my shaking legs?"  And what do you do with your hands?  I had practised this pitch 100 times and it was never the same twice.  But it's over and the relief washed over me.  You then realise where you are.  The robotic and orchestrated part of the session is over and this is when the new terror grabs you.  Up until then you have had some semblance of control but now it's time for the questions.
Before pitching t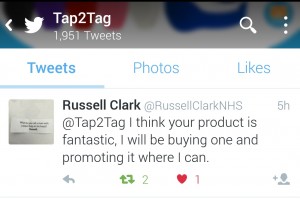 o the dragons I had watched over and over again previous series to see what worked and what didn't.  You know that you need to be on top of your game but the common question areas are
Know your numbers
Don't over value your business
Know your market and competition
Is all of your intellectual property in order?
As a chart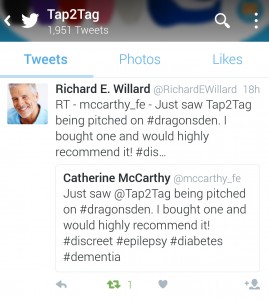 ered accountant I was fairly confident with the numbers and valuation.  But there is a lot to remember and when the high beam lights of the studio are blaring at you (did I mention the lights) the brain can go into mush mode.  I can really empathise with those who have appeared on the show and drawn a complete blank when it came to the numbers.  But there were very few questions on this and no-one even questioned my valuation.
You can prepare as much as you like but these dragons are seasoned.  They have a number of goals; to understand the business but also understand you.  So the questions can sometimes come out of left field just to see how you might react.  The whole question and answer session was a bit of a blur.  I tried to be engaging but sometimes it can be tough to get your point of view over.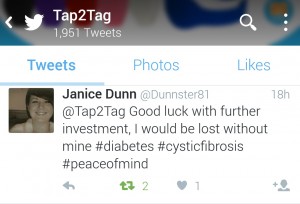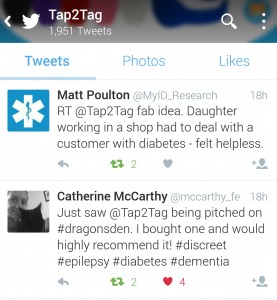 One question did throw me.  Touker Suleyman asked how much it cost us to run the software each month.  I said nothing as the software had been built on open sourced software, which is free to use.  What I did not explain is that this is what we had spent all of our money developing.  We owned the software!  So he then followed this up with "So how much does it cost to keep the servers running every month?"  I answered around £150 per month.  And then I realised where this was leading.  "So you are telling me that you have created a liability for yourself for the rest of your life of £150 per month to service the 600+ customers you already have.  You say you're a chartered accountant but you could not of trained with any of the Big Four!"  (The Big Four are the largest worldwide firms of auditors).  Now I hope that the TV cameras picked up my facial reaction to this comment.  I probably looked like a slack jawed yokel as I just could not respond to this statement.  I think I mumbled something along the lines of "Well there seems little chance of changing your mind" or something like that.  But it's always that point, a few minutes later, when you realise what you should have said, so let me say it now.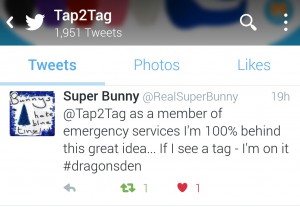 I did train with a Big Four firm, in fact the largest of them, Price Waterhouse Coopers.  And we accountants who call this type of expenditure an "overhead".  And if Mr Souleyman thinks that, as a chartered accountant, I cannot afford £150 per month to help save the lives of our customers then he has a very low expectation of accountants in general.  But I didn't say it so that is, as they say, that.  Might have been entertaining though!
Peter Jones, the technology expert, highlighted the fact that this was "old technology".  This was a tricky one to answer as he is partially right but mainly wrong!  Why, for instance, have Apple just introduced NFC into their 6 series iPhones?  In fact Apple should be extending the use of their NFC chips for peer-to-peer use in the early part of 2016.  Finger print technology, something that Peter also suggested, is not as readily available or understood.  In fact most security specialists are skeptical about the use of fingerprints.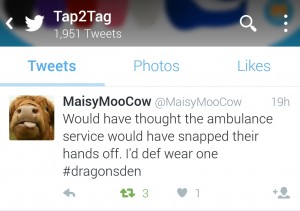 This balance of arguments from the Dragons was quite unbalanced.  Sarah Willingham thought that it would be a safer idea to have a necklace with a handwritten note inside.  Certainly not modern technology.  But when we have asked paramedics about these type of medical alert systems they are very dismissive.  In the first place they have no assurance how old the information is.  They often cannot read the patient's writing and they find it difficult to open them, even if they recognise the jewellery as a medical alert device.
So the show is over but tap2tag has only just begun!  In 2016 we will be announcing some really exciting news that covers the NHS and worldwide agreements.  Amazon signed us up as a vendor within 3 hours and described our devices as "genius products".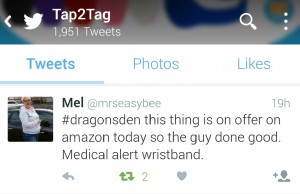 The Dragons do not always know what is a good or bad investment.  After all the show is mainly for entertainment so one always has to take things with a pinch of salt.  But the reviews from our customers are outstanding and the feedback from people on Twitter (a few of which we have included here), just shows that they really did miss the point.  Sometimes the social impact of a product on the lives of many can outweigh petty and argumentative points of view that try to make good television.
We were grateful for the opportunity to appear on the BBC show and the chance to pitch our investment opportunity to them.  But at least more people know about the technology and tap2tag.  We are seeking more investment to expand tap2tag into new markets.  You can read more by clicking here.  We have just been accepted by CrowdCube for their crowd funding portal so if you are interested in investing then keep watching our Facebook pages and Twitter for more information.  Maybe I should get in touch with the Dragons again to see if they are interested?  Of course the price has gone up a little!
To watch the clip click here