So we are just recovering from a hectic couple of days at the NEC last week where we attended the Emergency Services Show at the NEC, Birmingham.  Throughout 2015 our goal has been to raise awareness of tap2tag to as many people within emergency healthcare in the UK.  The show represented the most elegant way of showcasing the product to those in the front line.
From the moment the doors opened we had a steady stream of visitors to our stand.  But with every demonstration of the wristbands the crowds grew and grew.  In the end we were demonstrating the product to around 8 people at a time, every 10 minutes.
From talking to the attendees at the show it became clear that our stand was the busiest at the whole show.
The ESS is attended by paramedics, doctors, fire crews and the police.  Representatives from all over the country were present.  There were also some big businesses represented at the show, demonstrating varied and new equipment to be used in emergency situations.
FEEDBACK
The aim was to raise the awareness of the device and tap2tag system with front line emergency services' personnel.  What we were not expecting was the wave of gratitude and amazement from those attending.  The paramedics were stunned that it was so easy to use and were trying out our sample devices using their own phones just to see if there was some "magic" involved!  West Midlands Ambulance Service had the stand opposite to us and they were blown away by the simplicity of the wristbands.  All paramedics we spoke to liked the new design of the wristbands despite the fact that there is no ink printing on the face.
Kevin Place from NHS England visited the stand and said that this was "The best thing I've seen all day".  Other comments were "Amazing" and "Simply Brilliant"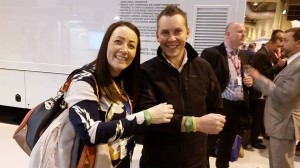 Every member from the emergency services who came to the stand took away some samples to show their colleagues back at their own workplace.  They were all keen to demonstrate the system and continue the awareness within their service.
WHAT NEXT?
Over 80 people left their contact information with us for follow up.  In particular they wanted our electronic version of the tap2tag leaflet so that this could easily be shared amongst their teams.  In fact we have potentially secured 5 new re-sellers for the product, both in the UK and overseas, as a direct result from the show.  Although this was not the intention of attending the Emergency Services Show, it was a nice surprise.  As we left the show the guys and gals from the West Midlands Ambulance Service all shook our hands and said simply "Well done".
So that makes the show a bit of success.  We will continue to follow up on those who expressed an interest in the product to ensure that all emergency services are aware.