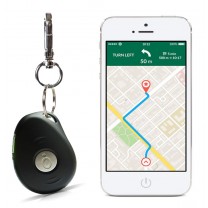 The Tap2Tag + Plus GPS Tracker is a compact GPS tracking and SOS device.
There are many products available for those living at home with medical problems where the customer wears a pendant around their neck that links to a box in their living room. Unfortunately these only work in the home and you have to be close enough to the box in the corner of the room to hear an operator and for them to hear you.
The Tap2Tag + Plus is different. It is effectively a tiny mobile phone that can be worn in the home or out at the shops. It has many features including
1. Fall detection
2. GPS location
3. Text alerts to next of kin including links to their location
4. Geo-fencing (this means that if a person goes outside of a specified area an alert is triggered) (available at a small monthly cost)
5. Waterproof
6. ...and Tap2Tag Medical Alert
t is ideal for those living at home with conditions such as Alzheimer's or Dementia and as an emergency alarm for children. It's ideal for anyone who can't or won't use a conventional mobile phone. It can be carried on the person as a keychain, around the neck or in the pocket.