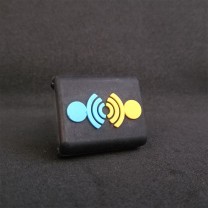 VERY LIMITED SPECIAL EDITION
We are pleased to announce the introduction of our new Smart Band Adaptor to the Tap2Tag stable of business connect products. We are offering this uniquely designed device for sale. These prototype devices will have some design changes for the US market and we may not produce this design again.
This versatile silicone square is a great addition to your existing watch or fitness tracker allowing you to carry your business information with you wherever you go and without the need for a separate business card.
A subscription is not required in order to use this device.