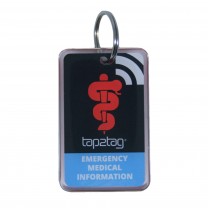 Our new Medical Alert Key Fob with NFC and QR code technology.
The Tap2Tag medical alert key fob uses NFC and QR code technology to allow paramedics and other health professionals get access to your medical information quickly and efficiently. It can also be used with any device that has access to the internet, anywhere in the world. It's just brilliant.
FOR CANADA AND THE USA visit https://www.tap2tag.ca/shop/tap2tag-medical-alert-key-fob/
Update your profile any time with no subscription required.