Expand this section to learn more about our medical alert devices
Close this section to see all of our great medical alert devices
Our medical devices enable first responders and doctors to get access to your important medical information quickly and efficiently. Using an NFC mobile device they can get to ....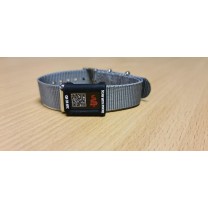 NEW FOR 2021
We are pleased to announce the introduction of our new Smart Band Adaptor ("SBA") to the Tap2Tag stable of medical alert products. We are offering this uniquely designed device for sale.
This versatile silicone square is a great addition to your existing watch or fitness tracker allowing you to carry your medical information with you wherever you go. The SBA comes with its own wristband the is adjustable from 150mm to 230mm circumference. Ideal for a young child to adult.
A subscription is not required in order to use this device.