After 12 month's of development we are pleased to announce the arrival of Tap2Tag Connect. We are now in our final evaluation program before we formally launch the system at  the Start Up Fashion Week in Toronto, Canada on the 20 October 2017.
Tap2Tag Connect is starting off with the production of the universal business card. When you are attending a meeting you just bring out your Connect card and allow your new contact to tap the card. They will see you standard business details including your profile image, telephone numbers and logo. But you can also embed a corporate video, your social media links and even attach PDF files containing marketing literature.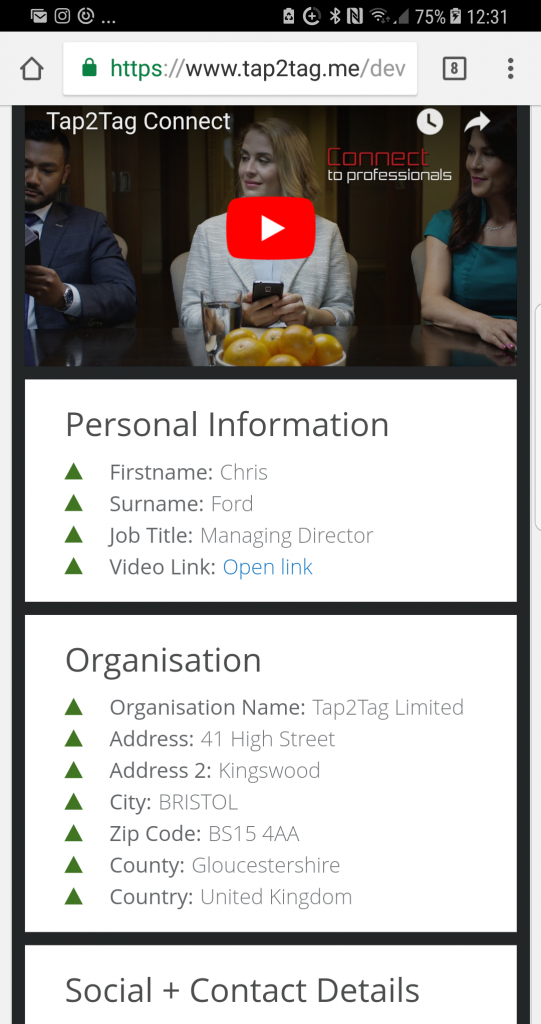 The Tapper, as we call them, can then scoot to the bottom of the profile and download your "Business Card" directly into the contact on their phone. No need for re-typing your details from that paper card you have in your wallet or purse. And no need for those business card scanning apps that only seem to work half of the time.
Before they download the card you will be asking for a little bit of information about themselves. This will include their email address. As a result you will know who has had your card and be able to contact them at a later date. Now you just slip your card back where it came from and you have done your bit to save the planet by cutting down on your printing costs. In fact, you don't really need their card either, so a double bonus!
By logging into your Tap2Tag account you can see the Connections you have made. If they are new to Tap2Tag Connect you can also choose to formally "Connect" with them by sharing other elements of your profile that you might have hidden away on your public profile i.e. Direct line number, email address etc.
One other handy feature is that your new contact will automatically be sent a copy of your business card by email (as a vcf file) along with any of the documents embedded into your profile.
Imagine you are at a trade show or networking event. You can simply hand around your Tap2Tag Connect card and everyone who taps it will automatically get your electronic business card as well as your sales literature. You are already two steps along the road to securing that new business!
More features are coming. These include the ability to download your Connections and allow you to upload these contacts into your own CRM. We are also working on an upscale version of the system for corporate clients where the cards are individually branded and controlled.
If you like what you see please add your comments below.