Tap2Tag has become part of my DNA. I think that anyone who invents & innovates and sees it through ends up as a different person as a result.
For those who have followed our story you will know that Tap2Tag was created as a solution for my 87 year old mother. Unfortunately she passed away before we could launch it so never saw the benefits to her life and care.
Our story, since we launched back in May 2014, has been filled with highs and lows. Fortunately there have been far more highs than lows, especially over the last year. Knowing that at least five lives have been saved because of Tap2Tag is a personal high but there have been many more. Customers have engaged with our ethos of providing a life-saving and life-changing system that is subscription free.
On Saturday 4 March, the effect of Tap2Tag had a very personal impact.
My mother-in-law, Barbara, has been wearing a Tap2Tag wristband ever since we introduced the product. On Saturday she was at home and experienced chest pains. After calling her doctor she was then referred to the emergency services who quickly dispatched an ambulance to her home.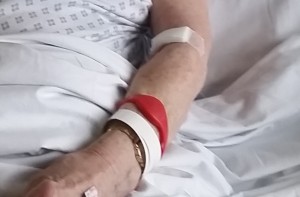 Barbara is an amazing 83 year old. She never stops, so hard working and the loveliest mother-in-law you could ever have. And she never stops telling people about her Tap2Tag wristband. So even while she is in the ambulance being rushed to A&E, she is telling the paramedics to scan her wristband. And that's what they did. They saw her latest medication and current medical condition, which helped enormously in treating her on the way to hospital. And they also recorded her emergency contacts that popped up on their mobile phone.
The paramedics were extremely impressed and so were the admitting A&E staff. There were many requests for more information.
But there was a deeper reason why this event held such an important, and seemingly inconsequential, benefit of the Tap2Tag system that proved its weight in gold to my wife and her brother.
There are many of a certain age who, moving into their sunset years, just don't want to be a burden on anyone, especially their children. So as Barbara was waiting for the ambulance to arrive she had no thought of contacting her children about her condition. When the paramedics arrived they asked for her emergency contacts but she told them that she didn't want to bother them. And as we all know, it's almost impossible for us to remember mobile numbers of your nearest and dearest so how would the paramedics make contact anyway?
So when Barbara was in the ambulance speeding to the emergency room the paramedics did scan her Tap2Tag wristband. They could see her NHS number, medication and medical conditions and family history. They also saw her emergency contact details and were able to record this for later use. After being admitted into hospital the team quickly stabilised her condition with (in part) the information provided by her Tap2Tag. wristband. But Barbara still didn't wish to contact her children as it was too much of a bother. (Is anyone else recognising a family member who would act like this?). In the end the nurse had to ask the attending doctor to "suggest" to her that she should really call her children as she did have a serious condition. And so she finally consented and my wife and brother-in-law both raced into the hospital.
How did the nurse know who to call? Well it was the information that the paramedics had obtained from Barbara's Tap2Tag wristband. And this suddenly hit home to me how important these little wristbands are and how they can have such a dramatic impact.
What would have happened if she was wearing one of those Medical Alert wristbands that just displayed her medical condition? There is no room to display her medication or medical history...and certainly no room for an emergency contact.
So imagine how you might feel with an elderly relative who cannot remember your details in an emergency. How do you think the paramedics or emergency team will be able to get hold of you? And imagine that this is time critical? The nightmares start darkening your thoughts as you worry about what could happen.
Barbara is now recovering nicely from her ordeal and should be home in a day or so.