As you may know we will be launching on CrowdCube in the next few weeks.  Our aim is to raise £150,000 to help us develop tap2tag in the UK but also in some overseas markets that have been attracted to the tap2tag system.  CrowdCube is a crowd funding website and is one of the most trusted and successful organisations for raising funds for new, innovative businesses.  Just to be listed on the website is a bit of a coup.
We already have received some significant interest from potential investors who will be investing via the CrowdCube service.  If you want to get involved then you need to be registered in advance.  Quite simply, when the £150,000 has been raised, then the door is potentially shut so you may be too late.
Shares in Tap2Tag Limited are being offered and full details will be made available within the CrowdCube portal.  So if you are interested in investing (minimum investment £10!) then here is a quick guide on how to do it.
1. Go to www.crowdcube.com
2. In the top right is a button marked JOIN.  Click on this button.
3. Complete your details for first name, last name, email address and create a password.  You will also need to create a nickname.  Be creative!  Don't forget to tick the box to agree to CrowdCube's terms and conditions.
4. You will now be presented with a screen like the one below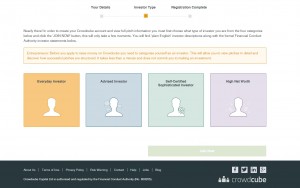 Most individuals fit into the first box of "Everyday Investor".  If you think you fit into one of the other categories then please seek some help from a financial advisor.  Select the box that's right for you.  Finally click the green box at the end and that's it.
You can now view all of the investments listed on CrowdCube.
Tap2Tag will be up there shortly and we will let you know as soon as that happens.
Your capital may be at risk when investing in new businesses.