Over the last few months we have been working with East Kent Hospitals NHS Foundation Trust about the possibility of expanding the medical profile to enhance the abilities for users.  We have also been listening to our customers and other healthcare professionals.  So here are some important changes that have now been added to the tap2tag medical profile.
STORING MEDICAL NOTES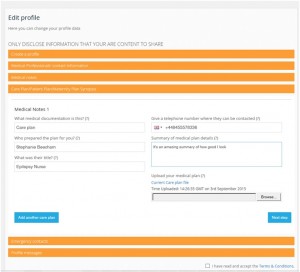 This is a massive evolution of the tap2tag system.  You can now upload PDF documents into your medical profile.  This can include a care plan, patient passport, letter from your consultant laying out your medical condition or anything else you feel is relevant.  You can even load up copies of a "Do Not Resuscitate"  letter or maternity notes.  The system will also record the date and time that these documents have been uploaded.  Even without a formal document, healthcare professionals can add in a summary of the document.  A care plan can run to 25 pages or be just a few sentences.  In the latter case we have a space available where a summary can be provided.
When a first responder accesses your full medical profile they will be able to access the documents on the mobile phone by simply tapping the "Download" option.  This means that your care plan is now completely portable.
ADDITIONAL MEDICAL PROFESSIONAL CONTACTS
We have now built in the ability for users to add more than one medical contact.  We recognised that although a GP's details might be important, those with more complex medical conditions might want to document the contact details for their neurosurgeon or specialist nurse.  In an emergency these individuals might have more up-to-date and relevant information about the patient's medical condition.  You can add as many medical professionals as you like to the profile.  Please also ensure that the country where those contacts are located is also registered, especially when you are travelling abroad.
FORWARDING A MEDICAL PROFILE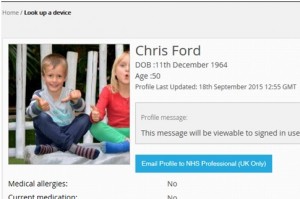 For the UK only (currently) we have added a button, when viewing a patient's full medical information, that will allow a first responder to forward a copy of the unique URL link to an NHS employee.  So if a paramedic sees the information on a by-standers phone they can ask for it to be forwarded to their own email address.  Profiles can only be forwarded to individuals with an email address with the suffix nhs.uk or nhs.net, thereby ensuring confidentiality.  We will look to extend this service to other countries over the coming months.
COOKIE CONTROL
We have added additional security to the website by introducing cookie controls.  This means that, just like your internet banking, you will be logged out of the site after 5 minutes if there has been no activity.  You will be given a 30 second warning before that happens.  This is also the same for anyone viewing your profile.  This ensures that your medical information does not stay on the person's mobile phone or computer screen.
MEDICAL AND FAMILY HISTORY
Doctors and healthcare professionals also need to know about your family history so we have added a new field within the medical notes to allow you to talk about this.  If you have family members that have suffered from particular medical conditions then it's a good place to put this information.
NHS NUMBER
Within the UK your NHS number is particularly important as this will allow medical professionals to access your NHS data quickly.  This number, if entered, will appear on the public profile when the devices are first accessed.  This replaces the display of the Medic Alert number on the public profile page.
TIME STAMPS
When viewing a person's medical profile you will now be able to see the date and time that the profile was last amended.  For the user you will also be able to see this within your profile dashboard.  Time stamps will also appear by any documents uploaded into the profile to indicate when these were added.  This will give paramedics a view on how old the document is and consider its relevance when treating the individual.
IMAGE EDITING
You can now move your profile image around and even rotate it to get your face in full view in the space provided.  We noted that, sometimes, an image can be uploaded but it is at 90 degrees.  So now you can edit the image, rotate it and even zoom in and out.
RELIGION
We have a new field to specify the religion of the individual.  It is not a mandatory field but we recognise that this is important.
These are important changes to your medical profile.  In particular, the ability to upload documents into your medical profile is a radical change in thinking and solves a problem that every NHS Trust in the UK is grappling with.  We will be continuing our work with East Kent NHS Trust as there are some other important news to report on that front in the coming months.
If you have had any problems following the upgrade please email support@tap2tag.me