Within England and Wales, whether you know it or not, you have a unique number that identifies you within the NHS.  This is not to be confused with your national insurance number!
Your NHS Number helps to correctly identify you and is an important step forward in improving safety and efficiency of your healthcare when receiving NHS services.  If you know your NHS Number, NHS staff can find your medical information more easily and share them safely with other people caring for you.  Over time NHS staff will be asking you for your NHS number when you receive care so it is important that you find out what the number is and keep it with you at all times.
Each NHS Number comprises of 10 digits shown in a 3-3-4 format.  Some of you may have an old NHS number comprising of both letters and numbers.  This system has now been replaced by to 10 digit format.
HOW CAN I FIND MY NHS NUMBER?
If you have received any correspondence from your GP or hospital then somewhere on the letter will be your NHS number.  It is important that you keep this number safe.  If you are registered with a GP, you will already have a NHS number.  To find out your NHS number, contact your GP practice and ask them to look it up.  To protect your privacy, you may be asked to show a passport, driving licence or other proof of identification.
Anyone who has registered with a GP practice in England, Wales or the Isle of Man will have an NHS Number. Also, since 2002 all babies born in England, Wales or the Isle of Man will automatically get an NHS Number.   If you were born before October 2002 and never registered with a GP practice then it's unlikely that you have an NHS Number. In that case, you should register with a GP practice as soon as possible. You can find out about local GP practices via this website. Here you'll also be able to find out if the GP practice is accepting new patients at the moment. NHS England may also be able to help.
The easiest way to find your NHS number is to look a recent prescription.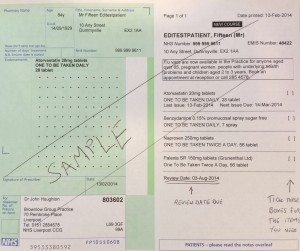 Up on the top right hand side it shows the NHS Number.
WHAT IF I AM VISITING THE COUNTRY FOR LESS THAN THREE MONTHS?
If you are a visitor to this country and require NHS care, you will be allocated an NHS Number where it is possible to do so. In cases where the organisation is unable to allocate an NHS Number directly, you will be given a local number (for example a hospital number).
Having an NHS Number does not entitle you to free NHS treatment. For more information see guide for overseas visitors to the UK.
WHY IS MY NHS NUMBER IMPORTANT?
Knowing your NHS number will become more and more relevant.  This number provides the unique data point within NHS services to identify you throughout England and Wales.  So if you live in London and fall ill in Exeter, in theory, NHS staff will (eventually) be able to find your information.  This is all reliant on an integrated health service computer system which, as we know, has cost over £6,000,000,000 so far!  But your NHS number is also important if you can be granted access to your GP surgery information.  Since April 2015 all GPs should offer their patients the ability to access their medical records online.
With tap2tag you can store your NHS Number within your medical profile so this can be made available in an emergency.  This is going to be even more important to gather this information as this will enhance the functionality of the tap2tag system in the future.