Accountants hate marketing!
It's that financial abyss where money is spent with no tangible return.  I have sat in many boardrooms arguing with Sales & Marketing Directors that their budgets for their department need to be cut as they could never prove where the sales were going to come from.  John Wanamaker's quote in the early 1900's of "Half the money you spend on advertising is wasted; the trouble is you don't know which half" was the one most used.  But that was 15 years ago and times have changed.  At that time the only form of advertising was a healthy investment in Yellow Pages and, if you were a large enough company, a pitch on TV or radio.
Now we have a complete palette of advertising options to work from but this causes its own problems.  Before choosing the right options you need to understand your business and your customers.  Nothing really new there but you also need to understand the diverse nature of the customers' buying habits.
Marketing also has its own special place.  Of course we want people to buy "stuff" but how is this achieved, especially when trying to find new customers who do not know your brand, product and (with Tap2Tag in particular) some of the technology that makes it work.  Once you know what you want to achieve and understand how your potential customers spend their hard earned money then you can start making choices about how to reach out to them.  You want to prove John Wanamaker wrong and understand exactly how much of your advertising spend works.  And if it doesn't...change your approach.
What have we done with Tap2Tag's marketing?
When we launched Tap2Tag in May 2014 we literally "flipped the switch" on our e-commerce website and waited.  And waited and waited and waited.  I can remember staring at the computer screen until 3am waiting for our first sale.  In fact it took 3 weeks before we took our first on-line sale.  So what had gone wrong?  Like a good accountant we had set aside a significant budget to develop Tap2Tag but did not consider the fact that we needed to spend money on marketing.  We simply believed that the product would speak for itself. Oh how naive we were!
So we hatched our first marketing plan.  We needed to raise awareness of the product and social media seemed the best route forward.  Tap2Tag is a technology based product/service so we needed to engage with customers that were aware of technology.  We have tried a number of strategies over the last 2 years and we have made mistakes.  More importantly we have learned from those mistakes.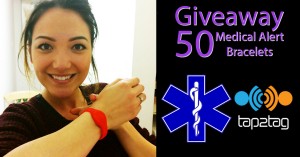 On the 24 March 2016 we started our most successful campaign to date, an awareness campaign targeted at the Epilepsy community.  The campaign was administered by Pipstone Online Solutions.  This marketing approach also tied in with International Epilepsy Awareness Day on the 26 March.  With over 600,000 people in the UK living with this debilitating condition we know from experience that Tap2Tag can really help those in need, especially with epilepsy.
The campaign ran for 11 days.  During that time we were able to generate 625 new leads and engage directly with our potential customers.  We asked entrants to leave their email address but also post on our Facebook Page the colour they would like if they were lucky enough to win.  But what we got was something very special.  Many of those who posted to our page told of their struggle with the condition as well as telling us how important a Tap2Tag device would mean to them.  This did not, in any way, impact on the eventual winners as these were picked at random but it just showed how engagement with our customer base could be achieved.
Why is Tap2Tag a different kind of business?
In over 30 years of working in business I have never come across a product or service where there is so much customer engagement.  We strongly believe that this is a social business that is having a real impact on people's lives.  This is born out by the fact that we know of at least 4 cases in the last 6 months where Tap2Tag has actually saved a life.  But it goes further than that.  Our customers remain our largest sales force.  They show their friends and family how it works and recommend it to anyone they meet.  We have some customers that distribute our leaflets, with no remuneration, to local hospitals and GP surgeries on a regular basis just so that the awareness can be spread.
Our aim is to continue raising that awareness.  Social Media will continue to be the main driver in that campaign.  Based on the last promotion we know exactly how much it cost and what our return is currently and into the future.  John Wanamaker may have been right in the early 1900's.  It was a doctrine I believed too as a chartered accountant but my mind has now been changed.
Know your business better, know you customers better and you can find the right strategy for you.
About the author
Chris Ford is a chartered accountant and founder of Tap2Tag.