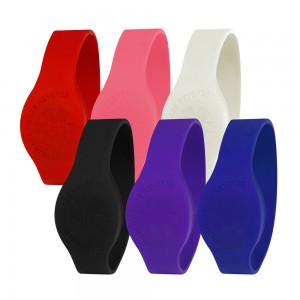 Tap2Tag's innovative medical alert wristbands, which are designed to provide potentially lifesaving information during an emergency, are now available through Epilepsy Ireland's website, www.epilepsy.ie.
Epilepsy Ireland campaigns to raise awareness about the condition and improve the lives of the estimated 40,000 people living with epilepsy.
In 2014, UK-based Tap2Tag launched its range of medical devices – including wristbands, small
cards and key fobs – which are enabled with NFC (near field communication) technology.
When activated, usually with an internet-enabled smart phone, the devices provide near instant access to information about the wearer's medical conditions, for instance epilepsy, as well as their identity.
What's more, once a device has been activated, the Tap2Tag system can also be used to send a message, either as a text or email, to designated family members or carers to alert them to the emergency.
Peter Murphy, deputy chief executive at Epilepsy Ireland, said: "Many people with epilepsy are worried about having a seizure in public and in particular about the inappropriate actions that can be taken when a seizure occurs. Devices which give information about a person's epilepsy and seizure type can be very useful in helping passers-by know what to do if they see someone having a seizure. We trialled the Tap2Tag wristbands for 2 months at the end of 2014 with a group of 20 volunteers and the feedback was extremely positive.  We are very pleased to be able to offer these devices free of charge to people who become a member of our organisation and for sale through our online shop."
Because of Epilepsy Ireland's charitable status, Tap2Tag is providing its devices at cost price so that any money that is generated in on-line sales can go towards the charity's activities all over Ireland.
Tap2Tag's managing director, Chris Ford, said: "Ever since we first launched the devices we have worked closely with epilepsy charities in the UK and Ireland.  It is a condition that is close to our hearts as we have seen the direct impact and reassurance that customers receive from wearing one of our devices.  We believe that Tap2Tag medical alert wristbands have the potential to help many thousands of people who live with the condition.
"The fact that Ireland's national epilepsy charity, which does so much good work supporting and improving the lives of thousands, believes in our products enough to sell them in its own shop is a source of enormous pride for all associated with Tap2Tag."
About Epilepsy & Epilepsy Ireland
Epilepsy is a very common neurological condition, characterised by a tendency to have recurring seizures. There are 37,000 people with epilepsy in Ireland, including about 15,000 people whose seizures are uncontrolled.
Epilepsy Ireland is the national organisation working with and for people affected by epilepsy and their families and carers. Established in 1966, the charity has strived to achieve a society where no person's life is limited by epilepsy.  In addition to providing a range of services and supports, Epilepsy Ireland also works to support and train healthcare professionals; runs a training programme for young adults with epilepsy; raises public epilepsy awareness; advocates on behalf of all those with the condition and supports Irish epilepsy research.
For more information, visit epilepsy.ie or follow Epilepsy Ireland on Twitter (@epilepsyireland) and Facebook (facebook.com/epilepsy.ie).
Notes on Tap2Tag
Anyone can benefit from Tap2Tag Medical. However, for those with known medical conditions, the elderly or anyone taking prescribed drugs, it will be particularly useful and, potentially, life-saving.
Here's a link to a YouTube video which explains how the system works, with a more detailed description below:
https://www.youtube.com/watch?v=KQ7pNugPJqE
Each device is embedded with technology known as NFC (near-field communication) designed for use with mobile phones (most, but not all, smart phones already have this technology and it's anticipated that, by the end of 2015, virtually all new smart phones will have it).
In an emergency, for example when someone collapses, after calling the emergency services any passer-by or neighbour with an NFC-enabled mobile phone can just tap the patient's device and, within a couple of clicks, gain instant access to medical information the wearer has chosen to disclose, such as:
Name
Allergies
Known medical conditions
Medications they need
Any message, for example: "I have a heart condition. Spray is in my bag. Spray once in my mouth then wait for paramedics."
Organ donation status
Date of birth
Blood group
Photograph (to confirm identity).
Even if the first-responder hasn't activated the Tap2Tag Medical, the paramedics can do so on arrival, gaining potentially life-saving information about the patient.
No data is stored on the device itself. Instead each tag has a unique code, against which information is stored on a secure website. The user controls (and updates as necessary) all data and chooses what, and what not, to include.
Useful links:
https://www.facebook.com/Tap2Tag
http://www.epilepsy.ie/index.cfm/spKey/brainwave_store.tap2tag.html
http://www.epilepsy.ie/index.cfm/spKey/news.brainwave/spId/76FC208C-71D3-4633-8D622121C6636D6D.html